Related products
Product detailed description
About
This butter cleanser fulfils several functions at once. While your skin is gently cleansed a delicate massage with rosemary stimulates blood circulation and a little army of active substances hydrates and regenerates copiously as you wipe your skin with a warm wet cloth. Fragrant aromatherapeutic essences clear and calm your mind and the skin stays fabulously scented.         
Content: 100 ml
Main Ingredients
Rosemary, jojoba, lavender, camomile, melissa, cypress.
Complete ingredients
Simmondsia Chinensis Seed Oil (Jojoba Oil), Prunus Armeniaca Kernel Oil (Apricot Kernel Oil), Cera Alba (Beeswax), Butyrospermum Parkii Butter Extract (Shea Butter), Theobroma Cacao Seed Butter (Cocoa Butter), Cocos Nucifera Oil (Coconut oil), Rosa Moschata Seed Oil (Rosehip Oil), Lavandula Angustifolia Oil (Lavender Essential Oil), Helianthus Annuus Seed Oil (Sunflower Oil), Chamomilla Recutita Flower Extract (Chamomile Extract), Achillea Millefolium Extract (Yarrow Extract), Melissa Officinalis Leaf Extract (Melissa Extract), Calendula Officinalis Extract (Calendula Extract), Bellis Perennis Extract (Daisy Extract), Tocopherol (Vitamin E), Rosmarinus Officinalis Leaf Oil (Rosemary Essential Oil), Cupressus Sempervirens Leaf Oil (Cypress Essential Oil), Chamomilla Recutita Flower Oil (Chamomile Essential Oil), Linalool*, Limonene*
*essentail oils component
Recommendations for use
Start your morning and evening skin ritual with rosemary butter. Warm a small amount in the palms of your hands and massage it into your skin, including the eye area, with your fingertips. The healing butter gently removes make-up and impurities, while the rosemary gently purifies the skin and stimulates the regeneration process. Wipe the face with a towel soaked in warm water to improve skin penetration. You can gently exfoliate the eye area with a damp cotton pad on which you apply a little rosemary butter. Your skin will be nourished, radiant and ready for the next treatment in the form of Rose Conditioning Mist or Royal Herbal Spritz.
Take inspiration from the rituals of Inéz Cusumano.
Mcely Glow
Even after the busiest of days, take a few minutes to cleanse your face for a little mental refreshment. Remove your eye makeup with Sea Buckthorn Eye Balm, which moisturizes and rejuvenates the area around your eyes while helping to prevent wrinkles. Then massage your face and décolleté with fragrant Rosemary Butter Cleanser. Soak a washcloth in hot water and apply it to your face, thoroughly removing all impurities and simulating an express steam bath for your face while indulging in gentle exfoliation. The skin will be better prepared to take advantage of the regenerating effects of the products. After drying, continue toning with Royal Herbal Spritz or natural Rose Conditioning Mist. Finally, apply Divine Herbal Cream or a few drops of Rose Facial Serum on your still-damp face. Once a week, or before an event when you need to look especially radiant, add a miraculous Calendula Face Mask to your cleansing ritual between the cleansing and toning steps. Enjoy the incredibly broad spectrum of the mask's effects. Take advantage of the time you spend cleansing your face to clear and stop your flow of thoughts. Focus on the aromas of the essential oils to help you do this. We recommend adding a regenerating hair wrap using Saint John's Wort Hair Elixir to the ritual once a week.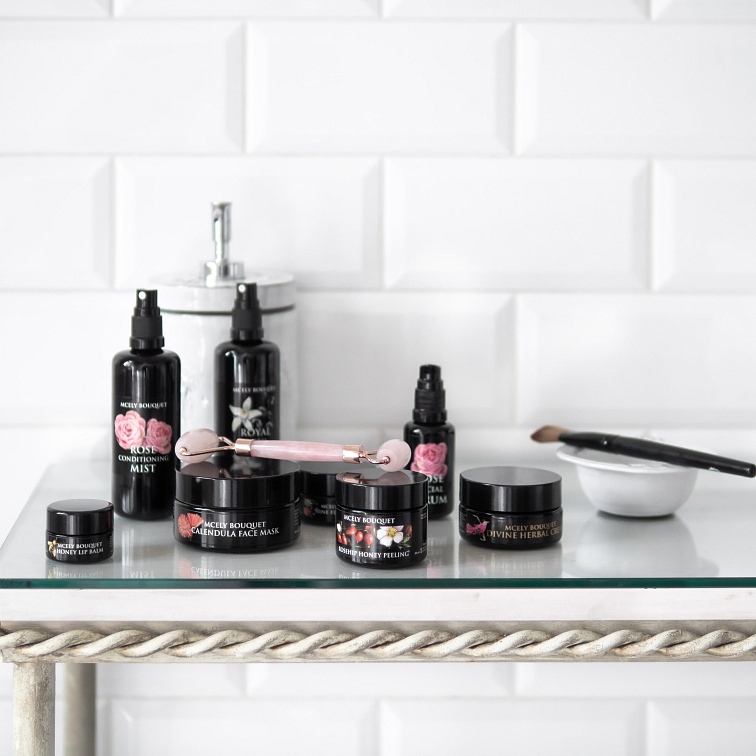 Be the first who will post an article to this item!