Related products
Product detailed description
About
Thirty millilitres of precious rejuvenation created by Inéz Cusumano, founder of the all-natural MCELY BOUQUET line, in elegant packaging featuring a hand-painted bird label evoking fresh citrus. Presenting Divine Brightening Facial Serum for radiant, healthy, smoother, firmer hydrated skin with three powerful active ingredients - 20% Vitamin C, hydrating Hyaluronic Acid, and regenerating Ferulic Acid.
The secret of highly prized Vitamin C
This serum, with its high vitamin C content, is a highly concentrated product that can help improve the naturally beautiful appearance of the skin, its texture, hydration, and brightening. It promotes collagen production, significantly helping to reduce and slow down the signs of ageing for all skin types. In addition, our serum contains pure vitamin C - ascorbic acid, the most effective form of vitamin C.
Content: 30 ml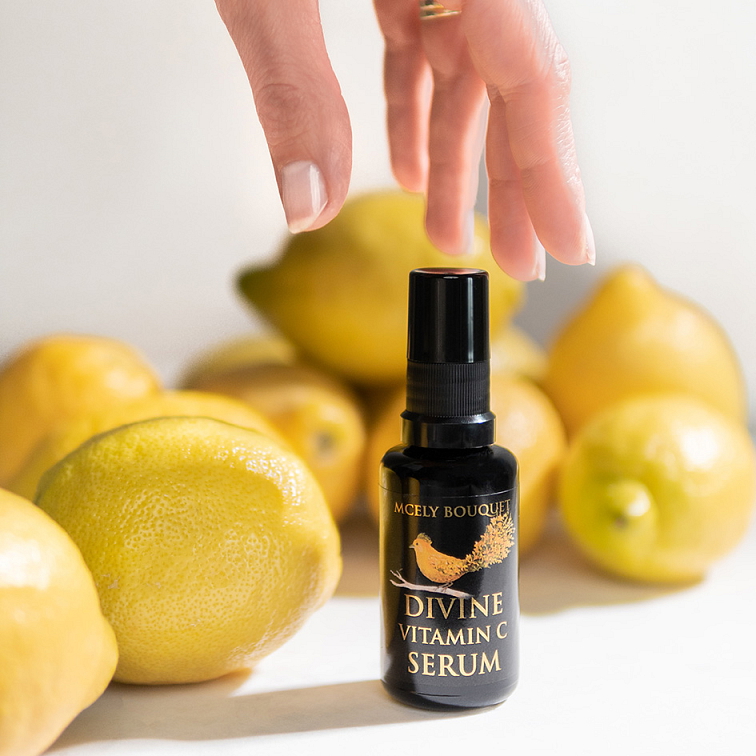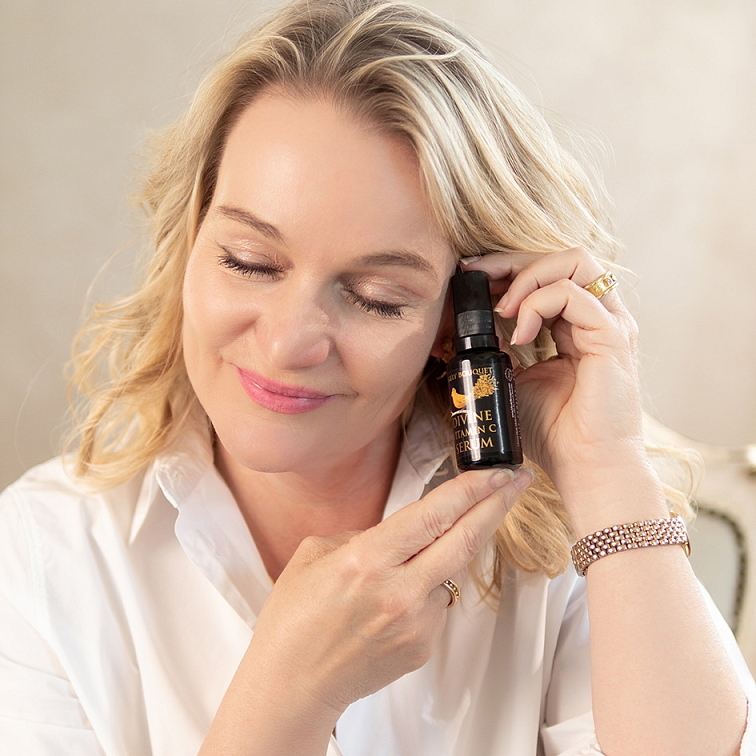 Active Ingredients
20% Vitamin C - in the purest form of L-ascorbic acid in high concentration, the most beneficial for the skin. It protects skin from UV damage, stimulates collagen production, and improves skin tone and texture. We add it to the serum just before it is sold to maintain its effectiveness for as long as possible.
Hyaluronic acid - helps retain moisture in the skin. It can bind up to 1000 times its weight in water. In our formulation, it is used in a low molecular weight form, penetrating better into the deeper layers of the skin, thus retaining moisture throughout all skin layers. 
Ferulic acid - regenerates damaged cells, protects against harmful UV rays, is anti-inflammatory, enhances the effectiveness of other ingredients, smooths and brightens the skin, and accelerates wound healing.
Rose water, Damask Rose essential oil, Nine Flowers extracts
Key ingredients
Rose water, vitamin C, ferulic acid, hyaluronic acid, rose, nine flowers extracts Rosa Damascena Flower Water (Rose Water), Ascorbic Acid (Vitamin C), Pentylene Glycol, Glycerin, Simmondsia Chinensis Seed Oil (Jojoba Oil), Helianthus Annuus Seed Oil (Sunflower Oil), Sodium Citrate, Xanthan Gum, Citric, Benzyl Alcohol, Sclerotium Gum, Lecithin, Ferulic Acid, Sodium Hyaluronate (Hyaluronic Acid), Pullulan, Tocopherol (Vitamin E), Achillea Millefolium Flower/Leaf/Stem Extract (Yarrow Extract), Bellis Perennis Flower Extract (Daisy Extract), Calendula Officinalis Flower Extract (Calendula Extract), Chamomilla Recutita Flower Extract (Chamomile Extract), Silica, Aqua, Phytic Acid, Rosa Damascena Flower Oil, Citronellol*, Geraniol*, Eugenol*.
*essentail oils component
Evening rejuvenation ritual
Quick Steps:
Rosemary Butter Cleanser: Thoroughly but gently cleanse your skin and neck. Warm a small amount of rosemary butter on your fingertips and use light circular motions to apply and then enjoy a short massage. Then wipe off any impurities with a soft towel dampened with warm water.


Rose Conditioning Mist: Tone and cleanse your skin and neck with genuine rose water. Wrap yourself in a delicate mist of rose blossoms and give your skin the necessary hydration to best receive other precious elixirs.


Divine Vitamin C Serum: Apply and gently work 1 to 2 drops of the serum onto dry skin on the face, neck and décolleté. Allow to absorb thoroughly.


Rose Facial Serum: Gently massage a few drops of rose serum into your skin and be caressed by thousands of petals. Damask rose essential oil is one of the rarest oils in the world and its rejuvenating effects have been known to people since ancient times. Divine Vitamin C Serum will not replace this step, it will just complement it beautifully.


Divine Herbal Cream or Melissa Face Balm or Nine Flowers Balm: Nourish your skin with Divine Herbal Cream, Rose Facial Serum, or one of our balms
Read also our Inspire blog.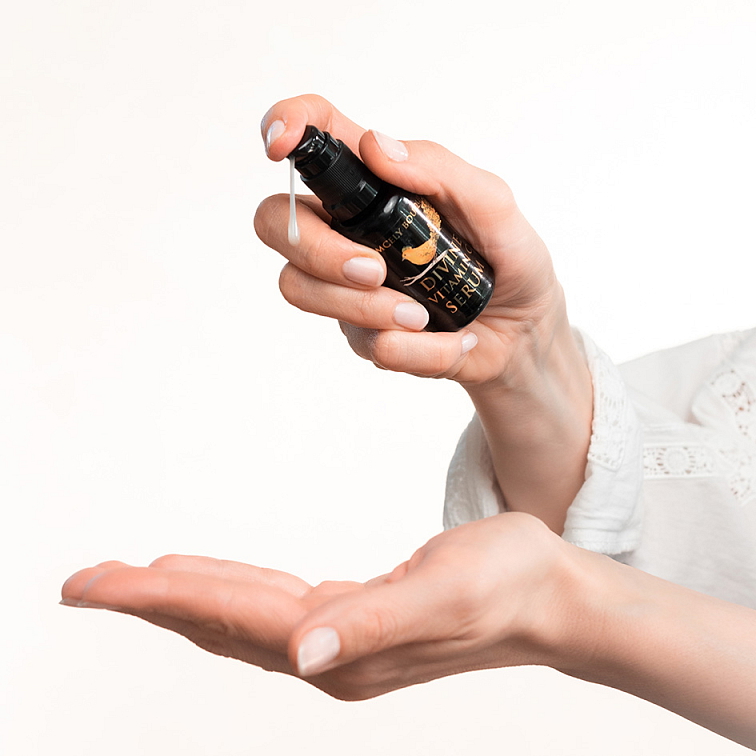 Maximum effect
Proper use of this serum can be essential to achieve the best results. Here is the most important information and a simple guide to maximize the effect.
Skin cleanliness
Before using the serum, thoroughly remove all makeup and cleanse your face and neck with Rosemary Butter Cleanser to remove impurities and makeup residue. Using the serum on uncleansed skin can cause irritation or worsening of your skin's condition. Continue with Rose Conditioning Mist. If you want to use a scrub, now is the time.
When is the best time to use the serum?
We recommend using the Vitamin C serum every night. It can be less effective when exposed to light, so giving it plenty of time to absorb before going out in the sun is best. Use it after cleansing, toning, and exfoliating but before moisturizing.
Applying the serum
Shake gently before use. Gently press/work 1 to 2 drops of the precious serum into dry, clean skin on the face, neck and décolleté. Wait a few minutes for the serum to be fully absorbed before applying anything else to the skin, especially if you useother AHA and BHA products such as glycolic, salicylic, or lactic acid; otherwise, you risk irritating your skin. If you have very sensitive skin or suffer from a skin condition, consult a dermatologist before using the serum. This is also advised if you have any unusual reaction. You can also do a simple patch test. Rub one drop of Vitamin C Serum on a small area of the very sensitive skin of the inner wrist. Wait 24 hours to see if the skin is irritated. If not, you can use vitamin C on your face.


How to use the serum
Once the serum has fully absorbed, apply Divine Herbal Cream, Rose Facial Serum or Melissa Face Balm, depending on your favorite evening ritual.
Sun protection
Vitamin C can increase your skin's sensitivity to the sun, so it's essential to use SPF regularly and protect your skin from direct sunlight. Even if you use the serum at night, apply sunscreen the next morning before you go out.
Storage
Use the Vitamin C serum within three months of opening or within the time stated on the packaging. Protect the serum from sunlight; limit exposure to air as much as possible. Keep the lid tightly closed.
Be the first who will post an article to this item!